Which Paper Coffee Cup Do I Need?
There are many things to think about when choosing which type of paper coffee cup to serve your brew in: serving temperatures, insulating properties, surface texture and feel, custom printing options, and which cup sizes you want to offer. To help point you in the right direction, here we explain the key differences between our four coffee cup ranges.
Double Wall Insulcups® feature an insulating air pocket between two layers, keeping drinks hot while minimising heat transfer to your hand.
The unique texture of the Dimple® design offers a point of difference from your competitors and provides excellent feel and handling.
Less paper is used in the manufacture of Single Wall paper coffee cups, offering a cost effective alternative for lattes and cappuccinos. One lid fits three cup sizes.
Classic Single Wall cups cater to baristas who prefer the two lid system for easy cup size differentiation.
Double wall with insulating air pocket
Textured outer wall with insulating air pockets
Single rigid wall
Single rigid wall
Excellent strength and insulation
Unique look and feel with a safe-grip surface
Cost effective and can be double cupped only when needed
6oz size allows consistency of flavour between ceramic dine-in and takeaway cups
Smooth gloss surface
Unique, dimple textured surface
Matte, uncoated surface
Matte, uncoated surface
Printable in multiple finishes
Printing unavailable
Printable to base of the cup
Printable to base of the cup
8oz, 12oz, 16oz
8oz, 12oz, 16oz
4oz, 8oz, 12oz, 16oz
6oz, 8oz, 12oz, 16oz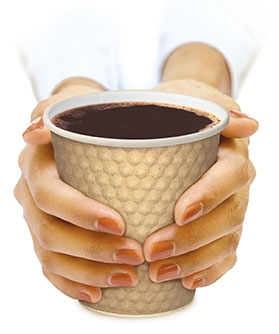 Compare Insulation Properties
To test the insulation properties of each paper coffee cup, black coffee equivalent is poured into each cup type. (This is an extreme test starting at a higher than average temperature of 93°c) The temperature at the outer surface of the cup is measured every minute. This is the 'holding temperature', the heat that your hand feels when holding your coffee. A comfortable holding temperature is 65°c. This graph shows the difference in holding temperature for each cup type.